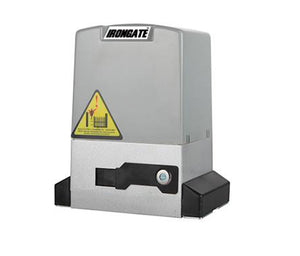 IRONGATE-800 Automatic Sliding Gate
The intelligent control system of the sliding gate opener IRONGATE-800 Automatic Sliding Gate series can set the running speed of the door leaf arbitrarily, and can set the half-open state, which is convenient to adjust. It keeps the door in optimal operation based on the results of the test. Even if the running resistance caused by strong winds or the like is increased, the smooth opening and closing operation can be maintained. It can be matched with various access control systems (such as self-service bank access control system) and can be set to manual normally open.
Features: 
1) Residential Sliding Gate.
2) Automatic open, close, stop. Auto-close timer is adjustable(set your gate to close within 15s, 45s, 60s).
3) Over-load and Over-heat protecting function.
4) Inner layer is made of environmental polyurethane foam with reinforced stile.
5) The normal color is off-white and can be painted any colors as customer's requests.
Technical parameter:
| | |
| --- | --- |
| Specifications | |
| Input power(VAC, Hz) | 220, 50 |
| Rated power(W) | 320 |
| Output torque (N.m) | 25 |
| Gate weight (max)(kg) | 800 |
| Opening speed (m/s) | 12 |
| Output revolution(rpm) | 46 |
| Motor rotational speed(rpm) | 1400 |
| Water proof(IP) | 44 |
| Ambient temperature(℃) | –20~+55 |
| Limit switch | Mechanical & magnetic |
| Worm gear | Nylon |